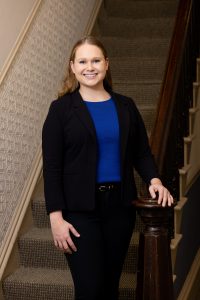 Savannah L. Wilt, Esquire has joined the Wix, Wenger & Weidner, P.C., as an associate attorney.
Attorney Wilt is a graduate of York College of Pennsylvania.  She received a Master of Business Administration from The Pennsylvania State University while earning her law degree from The Dickinson School of Law.  At Dickinson, Ms. Wilt was an active member of the Business Law Society and served as Treasurer for two consecutive years.  Ms. Wilt is a recipient of the Professor Louis Del Duca Memorial Award presented by the Pennsylvania Bar Association Business Law Section.
Ms. Wilt was admitted to practice before the Pennsylvania state courts in 2022 and is a member of the Dauphin County and Pennsylvania Bar Associations.  She is also a volunteer at the York County SPCA.